My Team
As a Financial Representative for Northwestern Mutual, I am committed to helping my clients whether they are concerned for their own financial needs or those of their family or business. I don't do it alone. Here you will find a listing of the people who help make it happen.
Together, we stand committed to providing the best customer service possible. If you have a problem or need assistance at any time, please let us know.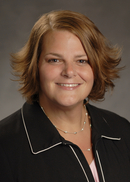 Stefanie B Weese
Director of Operations and Client Service
Office 412-201-7172

Stefanie works as my Practice Manager, Marketing Director and she also has her Life, Accident and Health license and is able to assist me in the sales process.  She stays on top of her continuing education and is constantly reaching out to all available resources for additional learning.  She does this to be able to provide my clients with the most up to date knowledge on their products so they can feel confident with her service and responses. She has also now added in her licensing for Long-Term Care Insurance.
Stefanie has more than 24 years of client service history with more than 17 years in marketing, she has always believed that the two go hand-in-hand. She has been with Northwestern Mutual for more than 13 years and has an understanding of the competitive nature of our business and continues to develop her skills here with us. 
Stefanie is a native of Pittsburgh and resides east of the city with her husband, Lee.  In her free time, Stefanie enjoys cooking, camping, biking and swimming.  In addition, she and her husband have been slowly restoring their turn of the century Victorian home.  Stefanie is an avid crafter and she can almost always be seen enjoying the company of her husband, family, friends and one of their many pets.  She and her husband are both members of P.E.A.R.L , Parrot Education and Rehoming League, to provide emergency and rescue fostering to birds in need.
Please feel free to contact Stefanie with any questions you may have regarding any one of your insurance products and she will be able to assist you.  Her direct number is (412) 201-7172 or you may reach her by email at Stefanie.Weese@nm.com.